Hibernate Tips: How to Use a SubQuery in a CriteriaQuery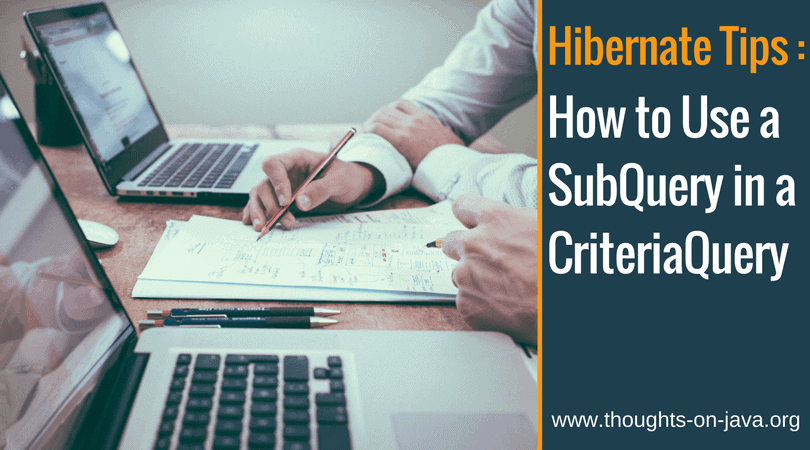 Hibernate Tips is a series of posts in which I describe a quick and easy solution for common Hibernate questions. If you have a question for a future Hibernate Tip, please leave a comment below.
Question:
In one of our use cases, we use the Criteria API to build the query dynamically. Now I need to add a subquery. Does the Criteria API support subqueries? And how can I implement them?
Solution:
The Criteria API supports the same features as a JPQL query. So, you can use a subquery only in your WHERE but not in the SELECT or FROM clause.
Let's take a look at an example.
I use a simple model consisting of an Author and a Book entity and a many-to-many association between them.
In the following code snippet, I use the Criteria API to define a query and a subquery that select all Authors who've written at least 3 Books.
// create the outer query
CriteriaBuilder cb = em.getCriteriaBuilder();
CriteriaQuery cq = cb.createQuery(Author.class);
Root root = cq.from(Author.class);

// count books written by an author
Subquery sub = cq.subquery(Long.class);
Root subRoot = sub.from(Book.class);
SetJoin<Book, Author> subAuthors = subRoot.join(Book_.authors);
sub.select(cb.count(subRoot.get(Book_.id)));
sub.where(cb.equal(root.get(Author_.id), subAuthors.get(Author_.id)));

// check the result of the subquery
cq.where(cb.greaterThanOrEqualTo(sub, 3L));

TypedQuery query = em.createQuery(cq);
List authors = query.getResultList();
In the first step, I instantiate a CriteriaQuery which returns Author entities.
Then I call the subquery method on the CriteriaQuery to create a subquery that counts the Books written by the Author which is selected by the outer query.
As you can see, I define the subquery in the same way as I create a CriteriaQuery. I first set the Book entity as the root and join it with the Author entity. Then I use the count function to determine the number of Books in the SELECT clause. And after that, I compare the id of the Author entity which got selected in the outer query with the id of the Author selected in the subquery.
In the final step, I define the WHERE clause of the outer query. I want to select all Authors who have written at least 3 Books. So, I use the greaterThanOrEqualTo method to check if the result of the subquery is greater or equal 3.
When you execute this CriteriaQuery, Hibernate generates the following SQL statement.
16:55:38,728 DEBUG [org.hibernate.SQL] - 
    select
        author0_.id as id1_0_,
        author0_.firstName as firstNam2_0_,
        author0_.lastName as lastName3_0_,
        author0_.version as version4_0_ 
    from
        Author author0_ 
    where
        (
            select
                count(book1_.id) 
            from
                Book book1_ 
            inner join
                BookAuthor authors2_ 
                    on book1_.id=authors2_.bookId 
            inner join
                Author author3_ 
                    on authors2_.authorId=author3_.id 
            where
                author0_.id=author3_.id
        )>=3
Learn more:
Here are a few more Hibernate Tips using the Criteria API: