Book Update Week 3 – Real progress … finally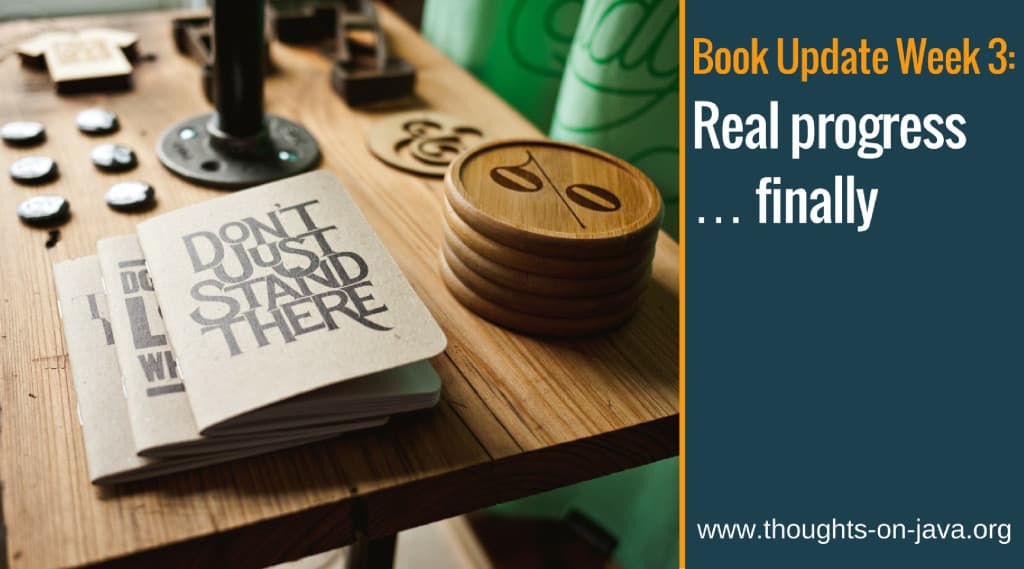 ---
Get access to all my video courses, 2 monthly Q&A calls, monthly coding challenges, a community of like-minded developers, and regular expert sessions.

Join the Persistence Hub!
---
This is my 3rd weekly book update, and I can finally write, that I had a good and productive week. As you know from my previous posts, the last weeks didn't go as I had planned. But this one was finally a good one. I not only edited all existing Hibernate Tip blog posts and added them to the book, but I also wrote a few new ones. It feels good to finally make some progress.
Old and new Hibernate Tips
So far, I published 28 Hibernate Tip posts on the blog, and all of them are now part of the book. That was more work than it sounds. There are several differences between a series of blog posts and the chapters of a book. Sure, the code samples and most of the explanations are still the same, but I edited all tips so that they (hopefully) fit together and become a cohesive cookbook.
After that was done, I finally started to write new Hibernate Tips so that the book now contains more than 30 tips on almost a hundred pages.
When I announced the book, I set a goal of 60-80 tips. So, there are still 30-40 tips left which I need to write in the next 1.5 weeks. That are 3-4 tips a day. I think I can comfortably write them if I don't have to do any other work. But I also have to write a few blog posts and record YouTube videos. That tightens the schedule and makes me a little nervous. Let's hope that nothing unexpected happens and that I can focus on the book.