Hibernate Tips: How to select a specific subclass from an inheritance hierarchy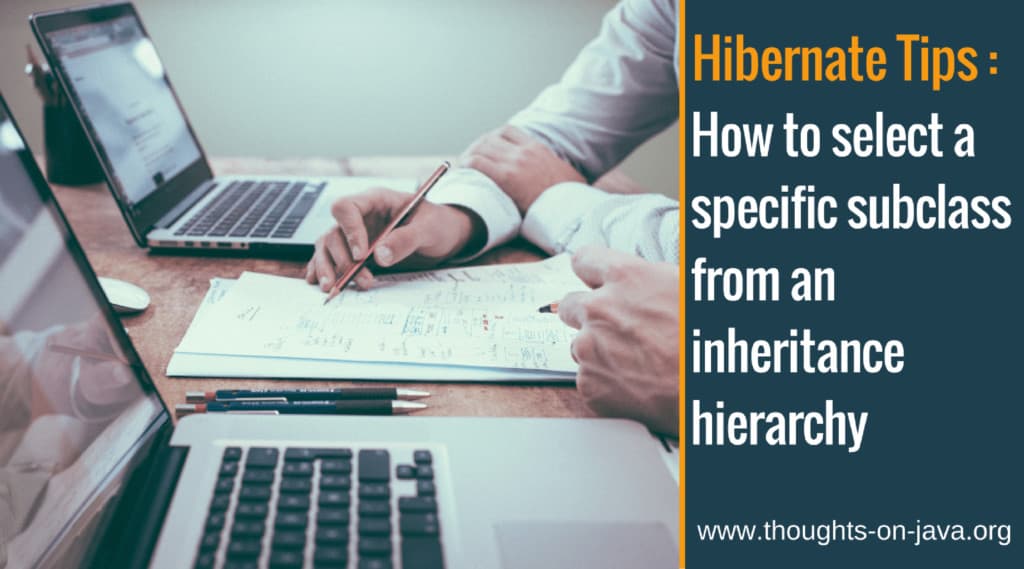 ---
Take your skills to the next level!
The Persistence Hub is the place to be for every Java developer. It gives you access to all my premium video courses, 2 monthly Q&A calls, monthly coding challenges, a community of like-minded developers, and regular expert sessions.
---
Hibernate Tips is a series of posts in which I describe a quick and easy solution for common Hibernate questions. If you have a question for a future Hibernate Tip, please leave a comment below.
Question:
I have a many-to-many association to the superclass of an inheritance hierarchy. How can I select only a certain subclass from that hierarchy?
Solution:
You can use a TYPE expression in your JPQL query to limit your query result to one or more subclasses. Let's take a look at an example.
Authors can write different kinds of Publications, like a Book or a BlogPost. You can model that with an inheritance hierarchy and a many-to-many association between the Author and the Publication entity. In this example, I map the inheritance hierarchy with the InheritanceType.SINGLE_TABLE strategy. So, all entities of the hierarchy are mapped to the same table.
Let's select all Books that were written by a specific Author. I, therefore, join the Author and Book entities in the FROM clause, check that the Author's firstName is equal to 'Thorben' and use a TYPE expression to select only Book entities.
Query q = em.createQuery("SELECT b FROM Author a JOIN a.publications b WHERE a.firstName = 'Thorben' AND TYPE(b) = Book");
Book b = (Book) q.getSingleResult();

log.info(b);
As you can see in the log output, Hibernate uses the discriminator column of the Publication table in the WHERE clause to only select Book entities.
13:02:22,453 DEBUG [org.hibernate.SQL] - 
    select
        publicatio2_.id as id2_1_,
        publicatio2_.publishingDate as publishi3_1_,
        publicatio2_.title as title4_1_,
        publicatio2_.version as version5_1_,
        publicatio2_.numPages as numPages6_1_,
        publicatio2_.url as url7_1_,
        publicatio2_.DTYPE as DTYPE1_1_ 
    from
        Author author0_ 
    inner join
        PublicationAuthor publicatio1_ 
            on author0_.id=publicatio1_.authorId 
    inner join
        Publication publicatio2_ 
            on publicatio1_.publicationId=publicatio2_.id 
    where
        author0_.firstName='Thorben' 
        and publicatio2_.DTYPE='Book'
Learn more:
If you're using JPQL, you might also be interested in my detailed guide about it: Ultimate Guide to JPQL Queries with JPA and Hibernate.
And I also wrote a tutorial about JPA's different strategies to map inheritance hierarchies: Complete Guide: Inheritance strategies with JPA and Hibernate.
Hibernate Tips Book