It's Time to Make a Change
Things are constantly changing, and that's especially the case in our profession. New frameworks become popular, existing frameworks adapt, and our customers expect us to solve technical and business requirements we've never seen before.
And that's, of course, not only the case for software projects. It's also the case for professional education and a website and business like thorben-janssen.com.
Before the pandemic, most companies were looking for in-person, on-site workshops to improve the skillset of their teams. Developers often preferred books and self-paced video courses because they provide more flexibility and are easier to afford.
During the pandemic, everyone started looking for live online workshops and self-paced video courses. I taught lots of these over the last 1.5 years. But even though I enjoyed doing that and got great feedback from my customers, I recognized that something is missing.
For the last few weeks, I spoke with lots of students of my courses and subscribers on my email list to find the best way to support them. Because as cheesy as it sounds, I strongly believe that helping others succeed and charging a fair amount of money for it is the best way to do business.
Here is what I learned in all these conversations, and I would love to hear from you in the comments if that's also the case for you:
Most developers belong to 1 or both of the following groups. They are looking for help to solve an acute problem in their current project, and/or they're curious about technology and want to improve their professional skills.
Courses, expert sessions, and articles are great for learning new things in a structured way. But they are often not the best medium to find the answer to a problem, especially if you're still trying to understand what your problem actually is.
Q&A calls and forums can help you solve problems in your project if you know that the person who answered your question has the required expertise. But if you follow the advice from a random guy on the internet, you might waste several hours or, even worse, introduce a new problem that doesn't show up until you deploy to production.
It seems like, after offering online courses, live workshops, and Q&A streams separately for almost 6 years, it's time to make a change. The combination of all 3 seems to be the perfect mix. Having access to all my courses makes it much easier for you to find the information you need for your current task or find out more about a new topic. And a platform to ask your questions and discuss with other developers helps you find a quick solution to an acute problem.
Switching from separate courses to a membership
That's why I decided to no longer offer stand-alone courses and open up a membership at the end of November. It will include access to all my existing courses, a community forum, live streams, and more.
But before I get into more details about this, I need to address everyone who got one of my courses:
Don't worry, nothing has to change. I promised you lifelong access, and I will keep that promise. You will keep access to your courses.
But if you like the idea of the membership and want to get access to all updates and the new content, I will make you a special offer when I launch the membership. Make sure to watch your inbox in November.
OK, back to the membership.
Based on my conversations over the last few weeks, I tried to design the 1st version of the membership. And I intentionally call it the 1st version because I expect it will evolve based on member feedback.
Here is the 1st version of the membership that will go live at the end of November.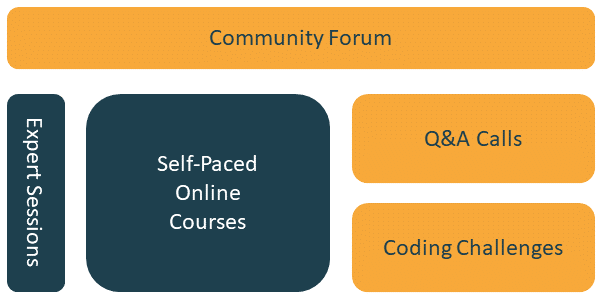 Online courses
Online courses are a great way to learn things in a structured way and are the products that I have offered on this site for more than 5 years. During that time, I created and maintained 5 certification courses and 2 mini-courses:
The JPA for Beginners course teaches you all the basics you need to know to build your first persistence layer.
In the Advanced Hibernate and the Hibernate Performance Tuning course, I show you how to build complex mappings and use different query APIs to create a fast and maintainable persistence layer that solves real-world business requirements.
The Spring Data JPA course adapts the concepts shared in the Advanced Hibernate and the Hibernate Performance Tuning course to Spring Data JPA.
And the Data and Communication Patterns for Microservices course teaches you how to exchange data between your services while keeping them as independent of each other as possible.
If you decide to join the membership, you will get access to all courses with their video lectures, exercises, and code samples. And if you watch all lectures and complete all exercises of a course, you can download a certificate that documents your accomplishments.
Over time, I will add more mini and certification courses and update the existing ones. I will get into more details about this later in this post.
Community forum
The community forum will be the place to connect with other developers working with Hibernate, Spring Data JPA, and other Java backend technologies. If you run into any problems at work or have a question about a course lecture, you can post it here.
I will be active in the forum to answer your questions, and I hope you will share your experience and knowledge there as well. We will also use the forum to collect questions for the next Q&A calls and topics for the next expert session or course.
Q&A calls
In the past, I did a weekly live stream on YouTube called Coffee with Thorben. If you ever watched one of them, you're already familiar with the general concept of these calls. You ask your questions, I do my best to answer them, and other people on the call can provide their input.
As part of the membership, I will offer 2 Zoom calls per month. Every member will be able to join the call live to ask their questions, and I will upload the recording afterward. If you can't join live, you will be able to submit your questions in advance.
Expert sessions
Not every interesting topic is a good fit for an entire online course. Some topics don't provide enough content for a multi-hour course, and others are too new or change too frequently. An expert session, similar to a conference talk, is a much better fit for these topics.
The membership will include regular expert sessions in which a guest or I will present live on a topic and answer your questions. And similar to the Q&A calls, if you can't attend live, you can watch the recording afterward. I can't promise you the exact cadence of these events yet, because this depends on several external factors, but my goal is to do 10 events per year. That's almost 1 per month.
Coding challenges
The responses to my recent survey showed a huge interest in coding challenges. And that's great! Watching a course lecture or expert session is often only the 1st step to understand a specific concept or API. That's why all certification courses include lots of exercises with solutions.
The monthly coding challenges will take this one step further. They will give you a small coding task related to something explained in one of the courses or expert sessions. If you're familiar with the topic, you should be able to solve the challenge within 10-20 minutes. And if not, you can use some of the provided hints to learn more or discuss the challenge in the forum.
As part of the membership, I will offer a monthly coding challenge, provide some hints if you're unfamiliar with the topic, share a working solution and discuss it during one of the Q&A calls.
The membership without a name
You might have recognized that I didn't mention the name of the membership yet. There is a simple reason for it: It doesn't have a name yet.
If you have an idea for a name, please post it in the comments. If I pick your suggestion, I will enroll you in the membership for free. This is valid for 1 person. If more than 1 person submits the same name, the first submission counts.
The plan for the first 12 months
OK, after explaining the 1st version of the membership, I should also tell you about my plans for the first 12 months.
Expert sessions, coding challenges and Q&A calls
As explained in the previous section, we will do multiple expert sessions per year, monthly coding challenges, and 2 Q&A calls per month. All of this will constantly get you new content that helps you solve problems at work and improve your skills as a developer.
Extend and update the course library
I know that for many developers, the courses are the most important part of this membership. For the last few years, I created a new course every year. I'm currently updating my Hibernate courses to version 6, which will be exclusively available as part of the membership.
By the end of 2021, I will release an entirely new version of my Hibernate Performance Tuning course. The new version includes an update for Hibernate 6 and a lot of new content. And it, of course, still includes all my performance tuning recommendations and code samples for Hibernate 4 and 5.
In the first half of 2022, I will do the same for my Advanced Hibernate course. I will rerecord all videos, provide additional examples based on Hibernate 6 and add new lectures.
After completing these 2 major updates of the Hibernate courses, I will start working on a new course. I already have several topic ideas, and we will discuss them in the community forum.
Ongoing improvements
In addition to all these plans, I will listen to your feedback and try different ideas to make the membership more interactive and more useful for you. I have lots of ideas of what we could do inside the membership. But let's do one step at a time and start with the content and activities I listed earlier.
Become one of the first members
If you're interested in becoming one of the first members and secure yourself the best deal, enter your email address below. I will share more information about the membership and send you a special launch offer as soon as the membership opens.